BATTLE CREEK, MI – A Michigan State trooper suffered a severe injury earlier in January, after police say a driver suspected of being under the influence of possibly a controlled substance slammed into his police vehicle head-on in Battle Creek.
Michigan State Police trooper injured in head-on crash identified https://t.co/8X57JOrQpg

— MLive (@MLive) January 18, 2021
Officials say that the incident occurred at approximately 10:00 p.m. on January 17th, when Michigan State Police Trooper Christopher Haywood was headed westbound on West Columbia Ave near Stevens Rd.
From there, an individual driving a black Toyota Camry allegedly crossed over the center line of West Columbia Ave and collided with Trooper Haywood's patrol vehicle head-on.
The injuries suffered by the state trooper were severe, with Michigan State Police Lieutenant Dwayne Robinson saying that Trooper Haywood had suffered multiple fractures to his femur and also lacerations to his head and hands in the collision.
As for the driver of the Toyota, they too along with a passenger were reportedly injured in the crash, but said injuries – while serious – were described as being non-life-threatening.
Trooper Haywood, as well as the two occupants inside of the Toyota, were transported to Bronson Methodist Hospital in Kalamazoo for treatment.
Michigan State Police believe that the 32-year-old driver, who has not been identified by name as of this time, was under the influence of a controlled substance at the time of the crash.
Trooper Christopher Haywood was seriously injured after the crash Sunday. He is now recovering at home after surgery to repair his femur. https://t.co/ZAAjqOmoM8

— WWMT-TV (@wwmtnews) January 22, 2021
Lieutenant Robinson says that charges against the driver are pending due to authorities awaiting the results from the lab to determine if there were any intoxicants involved in the collision.
These same sentiments were mirrored by the Calhoun County Prosecutor's Office, as they too stated they're awaiting the results of a toxicology report before reviewing the case.
Trooper Haywood was described as a 22-year veteran of the Michigan State Police and also a U.S. Marine Corps veteran.
According to a GoFundMe account established by Trooper Haywood's shift partner, Eric Gantert, there are concerns that Trooper Haywood's sustained injuries from the crash could be "career ending".
The fundraiser for the injured trooper is an effort to help alleviate the "financial stress and burdens" as Trooper Haywood indoors physical rehab on his road to recovery.
This is a developing investigation. 
Please follow Law Enforcement Today as we gather further details into this ongoing case. 
Do you want to join our private family of first responders and supporters?  Get unprecedented access to some of the most powerful stories that the media refuses to show you.  Proceeds get reinvested into having active, retired and wounded officers, their families and supporters tell more of these stories.  Click to check it out.
At the onset of January, a police officer in Greenbelt, Maryland was struck by an oncoming vehicle while working the scene of a crash. Sadly, that officer succumbed to her injuries roughly two-weeks after the incident. 
We at Law Enforcement Today recently reported on this fallen officer. Here's that previous report. 
_
GREENBELT, MD – On January 2nd, 2021, a Greenbelt Police officer was struck by a vehicle while working the scene of a car crash that evening.
According to officials, the officer injured during that incident succumbed to her wounds on January 14th while she was hospitalized. 
Our thoughts and prayers go out to our extended family from Greenbelt Police Department, and all of officer Peters family. https://t.co/0lrwIGG2n8

— Ryan Magnuson (@PresidentFOP140) January 14, 2021
It was approximately 10:00 p.m. on the evening of January 2nd when 49-year-old Master Police Officer Christine Peters was assisting officers from the United States Park Police at the scene of a crash on Edmonton Road, not far from Sunnyside Road. 
While Officer Peters was outside of her patrol unit on the scene, the driver of another vehicle reportedly struck her.
Following the incident, police say that the driver of the vehicle alleged to have struck Officer Peters remained on the scene and the officer was rushed via helicopter to a nearby hospital. 
Reportedly 12 days after the incident, while still hospitalized, Officer Peters passed away due to her injuries sustained from the incident.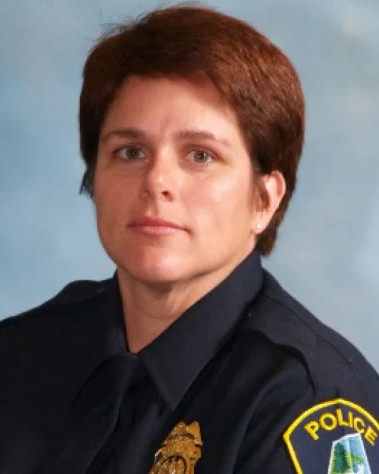 In a statement from the Greenbelt Police Department, condolences were extended to those who knew and loved Officer Peters: 
"The Greenbelt Police Department expresses its deepest sympathies to Officer Peters' family and friends on their loss, and we mourn the loss of a friend and colleague."
Officer Peters started her law enforcement career with the University of Maryland Police Department before she joined the ranks of the GPD back in 1998. 
#officerdown Master Police Officer Christine Peters, Greenbelt Police Department (Maryland), EOW 1/14/2021 @greenbeltpolice #ODMP Memorial: https://t.co/ypCD3OqmiA pic.twitter.com/fRk8IPcEhW

— ODMP.org (@ODMP) January 14, 2021
A statement put out by the city of Greenbelt acknowledged Officer Peters' over two decades of serving the city: 
"During her 22 years of service, she was recognized for her outstanding work and contributions to the community."
The U.S. Park Police are handling the investigation into the incident that resulted in Officer Peters getting struck on the evening of January 2nd.
There have been no details released whether any criminal charges are being considered toward the alleged driver involved. However, all reports have indicated that the alleged driver involved was cooperative with authorities on the evening of the incident. 
---
Want to make sure you never miss a story from Law Enforcement Today?  With so much "stuff" happening in the world on social media, it's easy for things to get lost.  
Make sure you click "following" and then click "see first" so you don't miss a thing!  (See image below.)  Thanks for being a part of the LET family!
Go to Source
Author: Gregory Hoyt